Handmade wooden icon of Our Lady of Guadalupe
$35.00 – $90.00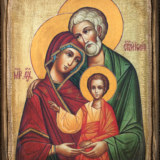 Catholicgifts4you
Authentic copy of an old icon made using author's technique by ukrainian craftsmen.
The dimensions and price for handmade wooden icon of Our Lady of Guadalupe.
Official Catholic accounts state that the Virgin Mary appeared four times before Juan Diego and one more before Juan Diego's uncle. According to these accounts the first apparition occurred on the morning of December 9, 1531, when a native Mexican peasant named Juan Diego saw a vision of a maiden at a place called the Hill of Tepeyac, which would become part of Villa de Guadalupe, a suburb of Mexico City. Speaking to Juan Diego in his native Nahuatl language (the language of the Aztec empire), the maiden identified herself as the Virgin Mary, "mother of the very true deity"[3] and asked for a church to be built at that site in her honor.
https://en.wikipedia.org/wiki/Our_Lady_of_Guadalupe
20/15 cm – 7.87″/5.9″= $35.00 USD including worldwide shipping.
7.8″/11.8″=20/30cm = $50.00 USD including worldwide shipping
30/38cm = 11.8″/15″ = $90.00 USD including worldwide shipping
This icon would be great gift for wedding,first Holy Communion,birthday,baptism,Mother's Day,gift for moms,for grandmoms.
Holy icons should be in every catholic and christian family.
Estimated shipping times
North America: 10-14 business days
Europe: 5-7 business days
New Zealand and Oceania: 3-4 weeks
Asia Pacific: 3-4 weeks
Latin America and the Caribbean: 2-4 weeks
PAYMENT: Only PayPal is accepted!!!
Product Enquiry
Shipping costs
Within Austria

$

0.00
Outside Austria
Free
Shipping Details